Poultry and Other Birds Not Allowed To Show But Sale Will Go On

Due to the ban placed by the Michigan Department of Agriculture and Rural Development on June 1, 2015, GCFFY has to come up with alternative ways for our exhibitors to still participate in the poultry project areas. GCFFY fair board approved the recommendations at their June 4, 2015 meeting.
Exhibitors must sign up for the correct market project on the fair entry form. 
Each exhibitor must complete a mandatory project record book evaluation.  This will include completing a St. Joe County Project Record Keeping Book found at http://msue.anr.msu.edu/county/st._joseph/4_h_livestock#poultry.  There will be interviews starting at 9:00 a.m. on Monday, July 27 (show day).  Exhibitors will sign up for the appropriate poultry book record class in the fair book on the fair entry form.  This class is open to all exhibitors not just those participating with poultry in the market sale.
Exhibitors who planned to exhibit breeding stock can do a record book and will also have an interview. Please still sign up for the appropriate class on the fair entry form.
Market Chickens, Ducks, Turkeys and Geese will be dropped off between 8 00 a.m. and 1:00 p.m., Sunday, July 26 at 4650 S. Ransom Rd., Ashley, MI 48806 to get processed.  Exhibitor does not have to be present at drop off if they have other fair commitments. Frozen processed birds will be picked up from the processor prior to the sale, kept frozen and the birds will be available for the buyers to pick up when they check-out.
All market projects MUST meet the project requirements printed in the fair book.  You are encouraged to make sure of this prior to leaving with your birds.
GCFFY will assess and ADVERTISE we will assess a fee of $15 per market poultry lot to our buyers to cover the cost of processing.
Processing will be done by the only USDA inspected poultry processing facility in the state of Michigan.  Muncell's Processing in Fowlerville.  Clay Mills will deliver and pick up birds to bring them back the fair.  (http://munsellspoultryprocessing.com/)
Egg Pullets will be sold as a picture and it will be the exhibitor's responsibility to deliver the pullets to the buyers after the sale if the buyer wants the project.  Otherwise the project will remain the property of the exhibitor.  No exceptions.  If your egg pullets are in production, please bring in one dozen eggs from the pullets to put on display (these eggs can but do not have to be signed up for the egg class as well).
Each exhibitor MUST provide two presentable photographs. One photograph MUST be a 4"x6" landscape print to fit our sale picture folders.  The other photograph will be placed on or inside the cage so an enlarged photograph is encouraged.
Egg classes can be exhibited at the fair per MDARD recommendations.  Exhibitors are to sign up for these classes on the fair entry form.
The poultry department will award a trophy for the best market chicken project, market duck project, market goose project, market turkey project and egg pullets.  These awards will be awarded based on the consistency market animal weight, record book and evaluation.
Cages will be set up.  Each market exhibitor is to place at least one picture of their project on or inside the cage.  The fair will award a trophy for the best poultry cage display by an individual and an award will be given for the best club display.  Displays can include but are not limited to pictures, diagrams, figurines, stuffed animals, decorations and anything poultry related.
The skillathon classes will still be offered for exhibitors who sign up for the poultry skillathon.  Scoring of the skillathon will be based on a test, animal identification and record books.  Sign up for skillathon classes on the GCFFY Fair Entry Form.
Showmanship will not be offered in Poultry this year.  Poultry will not be included in the small animal showmanship sweepstakes.
Please contact Clay Mills at 989-763-1973 or clmills@casair.net or Brian Gardner at 989-875-5292 or bgardner@gcffy.org.
Mark Your Calendar For GCFFY Sales
Annually GCFFY has two sales where youth are able to sell projects they have worked on throughout the year.  The first sale is the fair's Still Exhibit Sale which will be held on Sunday, July 26 and will begin at 5:00 p.m.  This is your opportunity to support projects hand crafted by the fair's youth participants in areas such as foods (and by foods I mean amazing desserts, meals and culinary creations), wood working, photography, welding and more.  Later on Friday, July 31 at 11:00 a.m. the fair will have it's annual Livestock Sale where youth will be able to sell market projects.  Species selling will be Rabbits, Chickens, Turkeys, Ducks, Geese, Goats, Feeder Beef, Sheep, Swine, Dairy Milk, Crops & Beef. Be sure your calendar is marked for these great events.
Applications Online for GCFFY Queen and Princess Contest
Each year GCFFY crowns a fair queen and princess at the fair's opening ceremonies which will be held on Sunday, July 26.  To be part of the Queen/Princess contests or be on the court, youth must submit an application with a reference, create a poster advertising the fair and display it at a local business and complete an interview.  Applications are online for the Junior Court (ages 9-13) application and the Senior Court (ages 14-19) by clicking here.  Applications are due on Monday, July 6 to the Fair Office (located with MSU Extension inside the building that previously housed the Secretary of State in Alma.
Rabbit Tattooing Clinic
On Saturday, July 11 the Small Animal Committee is hosting a Rabbit Tattooing Clinic from 9 a.m. to 11 a.m. in the Small Animal Barn.  All rabbits showing at the fair either breed or market classes must be tattooed in the left ear.  If you cannot make it on July 11, contact Brett or Jeanne Fidler at bfidler@mtpleasant.edzone.net or 989-763-1076.
Gratiot County Community Foundation and Michigan Department of Agriculture and Rural Development Award Grants
Gratiot County Community Foundation and the Michigan Department of Agriculture and Rural Development have awarded generous grant funding to Gratiot County Fair for Youth to develop new the new south parking area and to move 24 campsites. Grant funding has helped GCFFY fund installation of new roads and driveways, leveling and planting of the parking area south of the main Armory, establishing twenty-four new campsites, fencing to funnel visitors away from campsites and placing signage to help direct visitors to the new parking areas.  This project has been done because of upgrades by the local Armory that were necessary to keep them within increased national security guidelines.

The Michigan Department of Agriculture and Rural Development awarded GCFFY $20,000 in grant funding from their competitive Fair Capital Improvement matching grant program.  Gratiot County Community Foundation awarded the fair $5,000 which can be used to offset the state's matching grant requirement.  The completed project is expected to cost GCFFY over $50,000.  Other donations of in-kind services and even from the Beebe Beef 4-H Club will help offset the costs of the improvements.
Significant Parking Changes Come to GCFFY
This summer visitors to the fair will see a major change in parking at the fair.  Starting the Monday of fair week (July 27) GCFFY will close the entrances on Alger Road (or Lincoln Ave.) and will not allow their use during the week of the fair as newly relocated campsites will be put inside the old parking area.  All visitors will need to use the new entrance which will be off of Hawthorn Road just beyond the Armory.  GCFFY will have signs helping to direct traffic to new parking areas.

Entering off of Hawthorn Street, visitors will gain access to the large parking are south of the main Alma Armory but still on the Armory property.  Parking attendants will be available at the gates to direct traffic into parking areas.  GCFFY will install temporary fencing along the fair perimeter.  This fencing will direct fair visitors away from camping areas and encourage them to enter near the fairgrounds next to the bathhouse. 
Visitors who are camping with us, have special needs such as vendors who need to bring in supplies or visitors with handicapped permits will follow the road through the parking area to another gate which will permit them vehicle access to the general fairgrounds.  Campers and vendors will be provided one weekly parking pass that will be different from general parking passes.   Camping families will be able to purchase one additional special permit parking pass in addition to this parking permit.

As always weekly vehicle admission (parking) permits are available for $15 at the gate or for $12 through Sunday, July 26 from the fair office.  Daily vehicle admission (parking) rates will be $5.

A map is available by clicking here.

To help make this transition as smooth as possible for everyone, GCFFY encourages everyone to share this information with family and friends who may visit them at the fair.

Michigan Soybean Promotion Committee Awards GCFFY Grant for Soy Based Products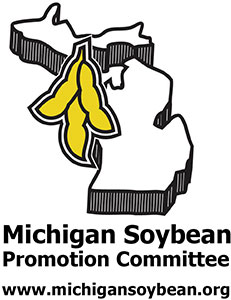 From the diesel fuel that powers GCFFY grounds equipment to the soap pumped in the bathrooms GCFFY is utilizing many soy based products thanks to a generous matching grant from the Michigan Soybean Promotion Committee.  This grant helps the fair use green, renewable resources. In the three years funding has been awarded the fair has used these biorenewable products in its paint and stain, bio-diesel fuel, hand soap, and even the ink in our commercially printed products. Funding for this grant comes from money soy bean farmers contribute and supports community fairs across the state.

Plan to Join GCFFY at the Tradewind Energy Rodeo!!!

TradeWind Energy and GCFFY invite you to join us for an amazing rodeo at 6:00 p.m., Saturday, August 1.  The rodeo is put on by Super Kicker Rodeo Productions who are proven to put on an incredible rodeo with great stock and riders as well as provide us with a fun and entertaining rodeo.  Rodeo tickets will be $8 in advance and $10 at the door. 

Along with the title sponsor, TradeWind Energy, several other great fair supporters support the rodeo including chute sponsors Four D Farms, Spartan Insurance Agency and the Fields Golf Course and arena sponsor Bader & Sons and Mutton Busting Sponsors. Mutton Busting Sponsors are Ensz Transport, GreenStone Farm Credit Services, Lakeside Motor Sports/Nelson's Speed Shop, MAC Middleton, Maple Rapids Lumber, Petersen Oil & Propane, Powell's Service, Saia Fabricating, Wheeler Dairy and Z92.5 The Castle/WMLM.  Partner Level Sponsors include Scott Allen, Farm Bureau Insurance, Capital Equipment, Carman's Tree Service, Stacey Cary, Heatmaster Outdoor Wood Stoves, Loomis Transport, Miller Auto Sales, Pat's Auto, Inc., Premier Components, Inc., Trails End Trucking and Wendy's of Alma.  Other sponsors include United Producers-Fowler and John Musser Insurance Agency.

If you are interested in supporting the fair's mission and its rodeo contact the fair office at 989.875.5292 or bgardner@gcffy.org.
Expanded Midway Brings New Rides and Great Deals
This past spring GCFFY cleared all of the poles and leveled the ground in the midway section of the fairgrounds at the request of Maple Leaf Amusements. This will be allow Maple Leaf Amusements to utilize the entire space south of the Pioneer Pavilion for their carnival.  The result will be a larger midway with several rides all ages will enjoy.  Furthermore, Maple Leaf will feature Nagel Concessions which are well known for bringing exceptional fair food.  Expect to find fair favorites like elephant ears, cotton candy, caramel corn, fresh squeezed lemonade, sausages and fries.  To see a list of rides and more information about the amusement company visit http://mapleleafamusements.com/rides/.

This year, Maple Leaf is allowing us to sell presale wrist bands at an incredible rate of just $8.00 each.  The wrist bands will be for one person to ride all day on any ride.  The catch is they are only available presale through Sunday, July 26 so plan ahead and get your tickets early.

New this year as well will be an opportunity to win a pre-owned vehicle.  Maple Leaf Amusements will be giving every person who gets a daily wrist band (and YES the presale wrist bands are included in this) a ticket to get their name into a drawing for a free pre-owned car (car awarded "as is").  The drawing will be held at 4:30 p.m., Saturday, August 1 at the carnival's ticket booth.  Only those present at the drawing will be eligible to win and winner must be 18 years old to claim the car.  

Gratiot County Community Foundations Awards Two GCFFY Memorial Scholarship Recipients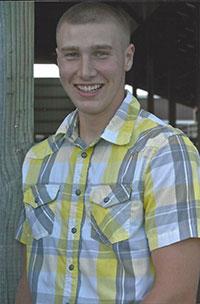 Courtney Crumbaugh from Ithaca and Slade Martin from Elwell were awarded the Gratiot County Fair for Youth Memorial Scholarship from the Gratiot County Community Foundation.  These scholarships will be paid from the community foundation's endowed GCFFY Memorial Scholarship Fund.  This fund is still growing and awards only the earnings from the fund's balance as scholarships. 

Courtney Crumbaugh graduated from Ithaca High School and is enrolled at Kettering University where she will attend in the fall.  Courtney started exhibiting projects at the fair as a Cloverbud participant and every year added new projects to show.  Over the past two years, Courtney served as the Teen Representative on the fair's Board of Directors where she actively served and was a familiar face in the fair office during fair week. 

Slade Martin is a 4.0 graduate from Alma High School and a twelve year fair exhibitor.  Slade has shown feeders, chickens, turkeys and projects at the fair.  This fall he will begin studying at Michigan State University as a Spartan.  Slade credits the fair and 4-H for helping to instill in him responsibility and leadership.  He served as the president of the Seville Superstars 4-H Club and a counselor for the Gratiot County 4-H Coldwater Camp.
Fair Clean Up Days Announced
Gratiot County Fair for Youth will be holding Fair Clean Up events on Wednesday, July 15, Sunday, July 19 and Wednesday, July 22.  These three clean ups will start around 5:30 p.m. and will run for a while.  For each clean up day the fair office will have a list of projects which need to be done.  On Wednesday, July 22 pens will be assigned by the animal superintendents and the exhibit barn will be ready to be decorated.  Anyone wanting to help is encouraged to drop by and give us a helping hand.  Along with jobs posted in the fair office, GCFFY will also have pre-fair parking passes, carnival passes and rodeo tickets for sale. 

The fair is also creating lists of job descriptions for Sunday, August 2 to help clean up after the fair.  The fair will be asking 4-H Clubs and FFA Chapters to help and as such will be assigning clubs certain tasks and provide them with clear directions to make it as simple as possible.  We are hoping this will help make sure our grounds are put back in tip-top shape after the fair.
Lance Fowler and Phil Lombard Join GCFFY's Team
GCFFY is pleased to welcome Lance Fowler and Phil Lombard aboard our fair's staff team.  Lance is serving in the position of the Fair Intern where he is already in the office entering data and helping to coordinate events.  Lance is a past GCFFY exhibitor, a CMU student and is completing his tenure as a State Officer of the Michigan FFA.  If you have driven by the fairgrounds lately and have thought wow this place looks great, you can thank Phil.  Phil is our new groundskeeper as well as a former fair dad and current fair grandfather.  GCFFY asks that you give them a warm welcome to the fair.
Pinewood Derby & Matchbox Derby Comes to GCFFY
All the fun and excitement of racing cars comes to GCFFY in a non-motorized but equally fun way.  Unique Motorsports will set up an official Pinewood Derby track and a Matchbox Derby track under the fair's Pioneer Pavilion on Saturday, August 1.  Anyone is welcome to participate.  Participants can purchase a kit from the fair office for $3.00 or from a local hardware store or use a car they have previously created.  Furthermore GCFFY will host a construction day at 12:00 p.m. for anyone wishing to create a car that day and cars constructed will compete only against cars constructed during the construction time.  For the Matchbox Derby participants can bring their own favorite Matchbox or Hot Wheels car or purchase one from Unique Motor Sports for a small price.  Additional information and rules are avilable from Unique Motorsports by clicking here.  Let's race!
Presale Carnival Wristbands for $8
The best deal on the fairgrounds just might be the $8.00 presale ride pass for unlimited carnival rides.  Presale passes are good for one person to unlimted rides for one day between Monday, July 27 and Saturday, August 1.  So if you think your kids would like to ride a couple days you would buy each kid two wrist bands and they would be good for any day during the week.  Presale wrist bands will be eligible for a ticket into the carnival's car drawing.  Plan well as tickets will only be sold through Sunday, July 26 from the GCFFY Fair Office.

Curious about the rides Maple Leaf Amusements will be bringing to the fair?  Check them out on Facebook at https://www.facebook.com/MapleLeafAmusements?fref=ts.  Last week Maple Leaf posted a video of one of their rides called the Star Trooper and let's say it looks pretty awesome for the thrill seekers.  

King Arthur Flour Baking Contest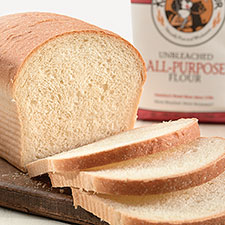 Calling all bakers… I want to challenge you to sign up for the 2015 King Arthur Flour Baking Contest. Fair exhibitors will see this as a class in this year's fair book (Class 414 on pg. 43) for youth interested in baking cupcakes. There is an adult (over 19 years old) class as well and the fair will accept projects during still exhibit judging on Saturday, July 25 from 9 a.m. to 12 p.m. Invite the bakers in your family to dust off their favorite recipes. Registration is simple. Check out the rules and entry information found at http://www.gcffy.org/parts/kafcontest.pdf . The best part of this is great prizes awarded by King Arthur Flour Company with the top prize being a $75 gift certificate to their store. I hope to see you there, and I hope you bring samples to the fair office.

GCFFY has Moved!!!
Gratiot County Fair for Youth, who's office has been located with MSU Extension since its inception in 1950, has moved along with MSU Extension. MSU Extension and GCFFY now have the following mailing address and are now located at:

    219 N. State St.
    Alma, MI 48801
 
This is the same building that houses the Alma Secretary of State office which is physically about one mile north of the fairgrounds.  All of phone lines will remain the same.  Stop by and say "hi" if you are in the area. GCFFY is proud to be affiliated with our MSU Extension Partners who help the fair in numerous ways and thanks Gratiot County for their continued support.  
Fair Presents its Fair Exhibitor Schedule
There are only a few minor changes to the GCFFY show schedule this coming year when compared to last summer.  On the schedule are times and location of each event which should help families plan for a successful 2015 fair.  The dates and times are tentative at this time however.  A few events have not yet been contracted and there is a possibility of slight changes so please plan accordingly.  Click here for your copy of the exhibitor schedule.
Fairgrounds Usage
On the south side of Alma sits a beautiful facility which might be the perfect location to host your next event.  GCFFY's fairgrounds is the perfect location for a company retreat or picnic, a peaceful meeting, a family reunion or of course an animal event.  GCFFY has covered picnic areas, an all-weather, technology equipped, conference room, large barns and arenas.  Our online calendar has all of our events listed at www.gcffy.org found by clicking on Upcoming Events tab.  If you would like to see how GCFFY could serve your needs, contact Brian Gardner at the fair office at 989.875.5292 or bgardner@gcffy.org. 


Any 4-H club or FFA chapter who is looking for a meeting location or a place to hold your next club event is encouraged to consider the fairgrounds.  The cost for 4-H and FFA groups is often waived depending on the scope of the event and the amount of work it will take fair staff to clean-up after the event. 
GCFFY Sets Fair Dates

Along with signing a three-year carnival contract, GCFFY also confirmed our fair dates for the 2015 – 2017 years.  This will help exhibitors and families plan their summer schedules.  The dates will be:


July 25 – August 1, 2015
July 30 – August 6, 2016
July 29 – August 5, 2017
 
We now know what will be the BEST week of the year!!!
Gratiot County Fair for Youth Campsite Procedures
This time of year, we want to remind all of our exhibitor families and future fair families about our fair campsite procedures.  Campers who camped during our last fair will be offered their sites first.  Letters will go out the end of November for these campers to pay for their sites and sign they understand and agree to our camping rules.  If campers want to move after everyone has responded, we do our best to accommodate requests.  The next step is to review our campsite waiting list.  Currently we have 26 families on this list.  The fair will contact families on this list in the order they were received until all of our empty sites have been filled.  To get on the waiting list or if you have any questions, contact the fair office at 989-875-5292 or bgardner@gcffy.org.  Please provide us your name, address, phone number (including cell phone) and email address.  Families will be added in the order they were received.
Find us on Facebook

The Gratiot County Fair for Youth and the Gratiot County 4-H Programs both have active Facebook accounts.  These accounts are used to provide you with current information about their respective programs.  Everyone wants to be liked so please "like" them and make sure you are receiving current information.
If you have "liked" us on Facebook and we do not show up on your feed, go to our page and like a post or two or make a comment.  Active participation on a page will ensure you are receiving the information we are distributing.

The Gratiot County Fair for Youth's Facebook page is https://www.facebook.com/gcffy and the Gratiot County 4-H page is https://www.facebook.com/GratiotCounty4H.