Winter Storage is Available at GCFFY
Store your summer toys at the fair. Winter Storage is available in our enclosed and locked barns at the fairgrounds. For more information click here.
GCFFY Office Moves to the Fairgrounds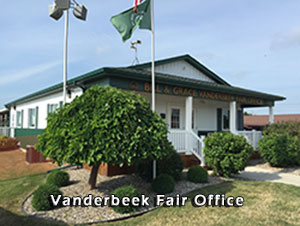 Gratiot County Fair for Youth constructed the Bill & Grace Vanderbeek Fair Office in 2010 with the intent the building would be used as the permanent location to the fair.  "With the completion of the recent blacktop project last fall, the time was right for our office to move and begin a permanent presence at our amazing facility," stated Fair Coordinator, Brian Gardner.  "Moving out of the MSU Extension Office was bittersweet for me as MSUE is a strong partner to our fair and I have many great friendships from my tenure being housed there. However, the timing is right for the fair's business to be done at the fairgrounds."
 
The fair's business has always been separate from MSU Extension and 4-H; however GCFFY considers it a collaborative relationship.  The fair was founded in 1950 through the tireless work of the late John Baker who was the Extension 4-H Agent at the time and wanted to create a fair where the focus was on promoting a great place for youth to showcase their projects.  Up until 2006 the fair and 4-H shared a full-time county funded staff person who did the work of 4-H Secretary and GCFFY Fair Coordinator.  Since 2006 GCFFY has fully funded the Fair Coordinator position and MSU Extension continued to offer space for the administration of the fair's business.  "This separation of location in no way diminishes our incredible relationship with 4-H and MSU Extension and we look forward to continuing our great relationship with them," continues Gardner.
 
Currently the office at the fairgrounds is open Monday, Tuesday, Thursday and Friday and closed Wednesday.  Office Hours are usually 8:30 a.m. to 4:30 p.m. depending on Brian's schedule.  It is recommended to call or email to ensure the office is staffed.
 
GCFFY's new office address and phone number are:


Gratiot County Fair for Youth
P.O. Box 1024, 701 S. Lincoln Ave.
Alma, MI 48801
(989) 466-5071
info@gcffy.org
 
Both GCFFY and MSU Extension understands there will be confusion about which organization does what and both are happy to help answer any questions.
Market Swine Weights Changed for 2017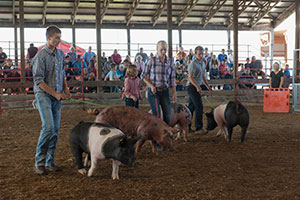 GCFFY's Board of Directors changed the weights for market swine projects beginning with the 2017 fair.  Swine must weigh between 220 lbs. and 320 lbs. to be able to show in market class and sell.  Exhibitors are encouraged to figure out the best sized animals to buy for the fair with our July 30 weigh-in target date.  The change is to ensure our buyers are provided a good quality product and small and extra heavy swine do not resell well.
Feeder Department Removes Beef Breed Feeder Class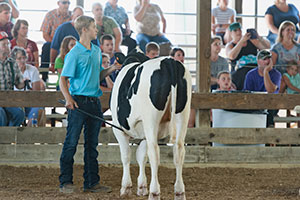 For the last few years GCFFY held a beef breed feeder class in conjunction with the dairy feeder class.  That class will be removed from the fair book in 2017 due to low enrollment.  In 2017 only Holstein, Ayshire, Brown Swiss, Guernsey, Jersey, or red and white Holstein feeder steers may show in the Dairy Feeder Market Class.  All other breeds including dairy breeds crossed with beef breeds must register in the market beef classes and NOT in the market feeder class.
Your Help is Needed to Build a Great Fair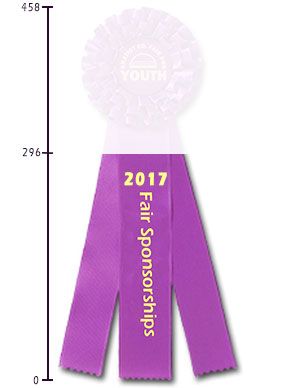 Thanks to the 104 donors to date, Gratiot County Fair for Youth is well on its way to meeting its goal of having all 458 trophies and awards it offers sponsored.  Currently the fair is about two-thirds of the way to its goal.  Reaching our goal of 100% trophy sponsorship not only provides well deserved recognition for our exhibitors but it helps the fair complete the funding equation necessary to run a successful fair program, maintain and improve our facilities, and provide an educational and memorable fair experience for our exhibitors and our community.
 
You can help.  You can support the fair through a gift to our annual fundraising campaign.  A class level donation starts at $50 and donors will be recognized with their name on a trophy and will receive a complimentary weekly parking pass.  Pledge forms and additional opportunities are outlined here.
GCFFY Extends Contract with Maple Leaf Amusements through 2021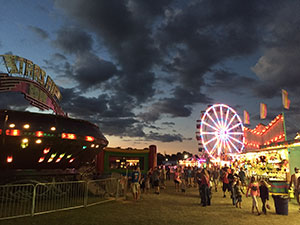 Gratiot County Fair for Youth and Maple Leaf Amusements signed a contract to extend Maple Leaf providing GCFFY's fair midway through the 2021 fair.  Maple Leaf began providing the midway during the 2015 fair and worked with GCFFY to create a great carnival atmosphere with exciting rides, fun games and amazing food like elephant ears, corn dogs, caramel corn and cotton candy.
 
With the new contract, GCFFY also locks in their upcoming fair dates.  The fair will remain the week that begins the last Saturday in July and end the first Saturday in August. 


July 29 - August 5, 2017
July 28 – August 4, 2018
July 27 – August 3, 2019
July 25 – August 1, 2020
July 31 – August 7, 2021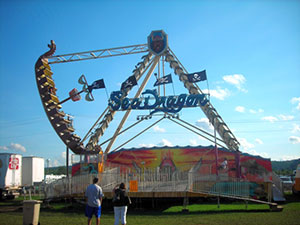 New this year at the midway will be the popular and thrilling ride the Sea Dragon.  This ride will swing riders in a large pirate style ship back and forth.  Maple Leaf has other rides they are working on switching into their midway as well so that their rides will continue to seem fresh and exciting.  Last year they added the incredible new gondola style Ferris Wheel which will again grace our midway in 2017.
 
GCFFY and Maple Leaf will again offer presale carnival tickets at $10 good for one person for unlimited rides for any day of their choice while the carnival is open from Monday, July 31 – Saturday, August 5.
Campsite Updates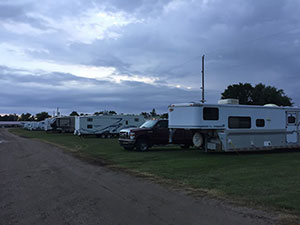 Campers who camped with us in 2016, want to camp with us this coming summer, and have not gotten their forms/payment into the fair office have until Thursday, February 2 to complete the paperwork and submit their forms.  After all campsite forms are processed the fair will reassign past campers who have requested to be moved to the best of the fair's ability.  After that, GCFFY will 




fill sites off of the fair's campsite waiting list.   As is tradition GCFFY will hold one site for the next fair to be auctioned off at the annual Fair Dinner Dance on Saturday, March 18.  If you are on the waiting list and do not get a call immediately it does not mean you will not get a spot.  Often times people plan on camping and sometime in the year their plans change, so another site opens up.  If you have not already placed your name on the campsite waiting list and would like to camp with us during the fair, contact the fair to be placed on the waiting list.  Please provide your name, mailing address, phone, email and the first year a site would be needed and email it to 

info@gcffy.org

 or call (989) 466-5071.
GCFFY Elects New Board Members
In its annual membership meeting, Gratiot County Fair for Youth held elections for new board members.  Becky Hirschman and Martha Stellow were reelected, and Shanna Acker and Mark Story were elected on the board.  Keegan Humm was appointed as the fair's new Teen Representative.  Also during the meeting, the fair presented its annual accomplishments and statistics as well as recognized outgoing board members.
 
With the election of new board members, Gratiot County Fair for Youth wants to thank the following volunteers for their dedicated service on the fair's Board of Directors.  Members of the board are expected to actively participate in monthly board meetings, serve on committees and help with various fair responsibilities.  The following board members served the fair with distinction and dedication and their presence on the board will be missed.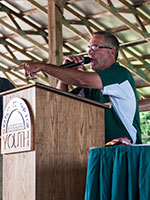 Scott Acker returned to the board in 2013 and in 2015 he served as the board's elected President.  Scott's commitment to serving the fair has a long tenure and has provided positive and thoughtful leadership to the fair.  Scott will continue to serve on the fair's Large Livestock Committee where he helps the fair by providing expertise with a long tenure in the livestock industry and practical show experience.  This helps the committee stay focused to provide fair exhibitors a high quality show experience while maintaining the values of a county fair.  He will be missed as a board member and yet we know he will continue to serve the fair and its exhibitors.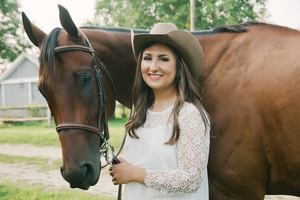 Emily Maslovich is completing her term as the fair's Teen Representative.  Beginning with her first meeting, Emily began actively serving similar to an adult with lots of experience.  Emily's service was not only providing input as an active board member, but she also provided countless hours of time working in the fair office.  This past summer she helped to set up superintendent boxes and personally handled the front desk of the fair office helping countless visitors.  During the fair, Emily spent one day in the hot summer sun helping the horse judge record the placings of our horse exhibitors.  Emily is currently a freshman at University of Detroit Mercy.
Fair Registration Deadlines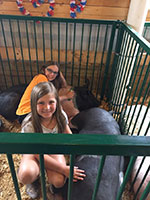 Get your GCFFY on!  Sign up to participate in the 2017 Gratiot County Fair for Youth.  Well, sign up if you are between the ages of 5 and 19 (as of January 1).  You can't show it unless you register it.
How do you do that, meet the following deadlines.

Market classes are ONLY for market animals intended for sale (this does not include Cloverbud projects or breeding stock animals not intended for sale).  If exhibitors want to register for market (sale) classes in Beef, Feeder Beef, Goat, Sheep and Swine, they must preregister their animals by the dates below.  Each of these market animals you intend to register MUST have a GCFFY provided ear tag.  Furthermore, exhibitors must attach a photograph that shows the animal with the ear tag visible and readable to the completed registration form and have it turned into GCFFY before the deadline.  Market Registration Forms DO NOT replace Fair Entry Forms where exhibitors register the classes in which they wish to exhibit.  Fair Entry Forms are due on June 25.
Market Beef – 4:00 p.m. Wednesday, February 15, 2017
Market Feeder Beef (Dairy Breeds) – EXTENDED TO: 4:00 p.m., Monday, April 17, 2017
Market Goat, Sheep and Swine – 4:00 p.m., Monday, May 15, 2017
Horse Project Registrations – 4:00 p.m., Monday, May 15, 2017
Fair Entry Form – EXTENDED TO: 4:00 p.m., Monday June 26, 2017
 
Forms will be posted as they are produced along with other fair forms like off road vehicle permits at http://www.gcffy.org/fair_forms.html.

Gratiot County Community Foundation GCFFY Memorial Scholarship
Scholarship money is available for fair exhibitors.  In 2012 a group of volunteers worked together and brainstormed how to provide scholarships to fair exhibitors while remembering someone who passed away.  An endowed memorial fund at the Gratiot County Community Foundation was created from that vision.  In 2017 GCCF will provide $600 scholarships to two fair exhibitors who meet the following criteria:


Must be a graduating high school senior accepted at a college, university or trade school OR a student currently in his or her first year at a college, university or trade school;
Must be a current Gratiot County Fair for Youth exhibitor who has participated for a minimum of five years with a preference to exhibitors who participate in multiple areas;
Displays a commitment to community service;
Demonstrates leadership skills;
Must not be a previous recipient of this scholarship;
Must submit an essay outlining the skills learned as a fair exhibitor and how those skills will serve you throughout your lifetime.  Be certain to address the aforementioned criteria.  Essays must be no longer than one typewritten page in an easy to read font. Also include at least one personal letter of reference. 
 
Applications and additional information about this and many other GCCF Scholarships can be found at http://www.gratiotfoundation.org/1/280/scholarships.asp.  If you are interested in helping this fund grow more than the $30,000 it currently has in its corpus, contact the Foundation.
Gratiot County Community Foundations Awards Two GCFFY Memorial Scholarship Recipients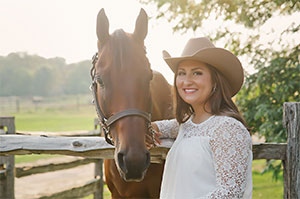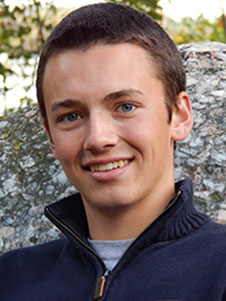 Austin Brittain from Breckenridge and Emily Maslovich from Alma were awarded the Gratiot County Fair for Youth Memorial Scholarship from the Gratiot County Community Foundation.  These scholarships will be paid from the community foundation's endowed GCFFY Memorial Scholarship Fund.  This fund is still growing and awards only the earnings from the fund's balance as scholarships. 

Austin Brittain recently completed his freshman year at Central Michigan University where he is studying Engineering.  Austin has been exceptionally active in the fair and is currently planning the third annual Science Fair to be held on Thursday during Kids' Day.  Brittain is an avid runner and was the winner of last year's Hoofing It for Ag 5K at the fair. 

Emily Maslovich graduated Salutatorian from Alma High School this past month.  Emily has grown up with the fair where she has participated in numerous different project areas.  Emily is finishing her second year as a teen representative on the Gratiot County Fair for Youth Board of Directors and is currently serving on the Gratiot County 4-H Leaders' Council.  For the past several years, Emily has volunteered to help the fair office organize ribbons and materials for GCFFY superintendents.
Grant Funding Provides GCFFY Improved Roads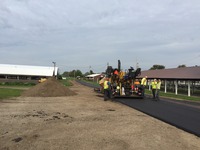 Last fall, construction equipment laid down 24,370 square feet of asphalt throughout our key areas in the fairgrounds.  Funding for this was generously provided by the Charles Strosacker Foundation, a Michigan Department of Agriculture and Rural Development Capital Improvement Grant, the Gratiot County Community Foundation and the Rollin Gerstacker Foundation. 
 
With the completion of the asphalt, GCFFY now has a paved entrance on Lincoln Avenue, parking areas around the Bill & Grace Vanderbeek Fair Office and a road that is paved from the north Lincoln Road entrance to the Bath House and also to the Covered Arena.  Additionally the paved roads attach to eleven barns, buildings and venues which are the Covered Arena, Vanderbeek Fair Office, Ag Building, Still Exhibit Barn, John Siefka Memorial Barn, Dairy Goat Barn, North Horse Barn, Sheep Barn, Swine Barn, Feeder Barn and Small Animal Barn.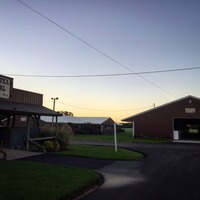 Beginning this spring the fair will finalize this project by pouring concrete in front of the south bleachers in the Horse Arena.  This will connect to the east and west entrance to those bleachers to the new blacktop on both sides.  The concrete in the bleachers will also connect to the Sheep Barn.  Additional concrete will connect the new asphalt to the Bath House as well as a path from the fair office's parking area to the Cafeteria and the Pioneer Pavilion. 
 
This project continues to provide the fair's vision of improving our accessibility for all visitors which was started in 2013 with improvements around the Covered Arena and the Pioneer Pavilion.
2016 Capital Projects Completed at GCFFY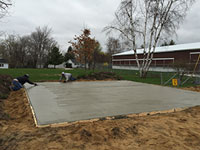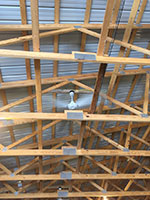 Along with the blacktop project, GCFFY also completed several other projects in 2016.  These projects are possible due to the incredible generosity the Gratiot County community provides to the fair.  In 2016 GCFFY installed a new livestock manure bunker which increased the size and capacity of the bunker.  New fans were installed in the Feeder Barn thanks to support from a handful of committed donors.  The fans helped to improve the flow of air within the barn.  The fair installed additional fencing and new gates along the roads.  Additional gravel was added in the Armory entrance road which improved the flow of traffic of visitors coming and going into the parking areas during fair.  A new sound system was installed in the Pioneer Pavilion which has improved sound in that part of the fairgrounds.
 


Additionally thanks to a donation from Breckenridge Insurance Agency the fair purchased new gating pens for swine to be used during our shows and sales.  These new pens greatly improved the efficiency of allowing swine into and out of the Covered Arena this past year.
 
Finally the fair purchased new cafeteria fryers and a griddle which increased the capacity and efficiency of food production in the River Rock Barn during the fair.
GCFFY Becomes Part of Gratiot County Barn Quilt Trail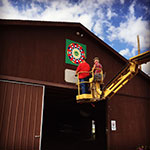 When presented with the opportunity for Gratiot County Fair for Youth to be placed on the Gratiot County Barn Quilt Trail, GCFFY jumped at the chance to be included.  The quilt was placed on the Dairy/Goat Barn prior to the 2016 fair and represents the colors of fair ribbons.  

Throughout Gratiot County the quilt trail has 50 quilts placed on barns, buildings, and businesses throughout Gratiot County with an additional 10 quilts ready to be placed.  The group is always looking for new sites.  For more information including how to participate in the quilt trail visit them on their website and like them on Facebook.
2016 By the Numbers
This past year saw growth while maintaining the value and positive impact of the program offered at Gratiot County Fair for Youth.  In 2016, GCFFY had:


609 Exhibitors
4569 Projects
458 Trophies
70 Cloverbud Exhibitors
461 Still Exhibit Project Exhibitors
43 Market Beef Exhibitors
108 Market Feeder Beef Exhibitors
72 Market Sheep Exhibitors
121 Market Swine Exhibitors
59 Horse Exhibitors
12 Cat Exhibitors
28 Dog Exhibitors
51 Goat Exhibitors
16 Pocket Pet Exhibitors
87 Poultry Exhibitors
86 Rabbit Exhibitors
36 4-H Archery Participants
16,643 recorded fair visitors
 
The 2016 Fair Sales provided $644,644 of revenue to our fair's exhibitors in their livestock and still exhibit projects.  This is because GCFFY had 371 total buyers which is an increase of 7.5% from 2015.  
Fairgrounds Usage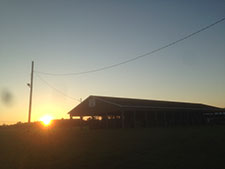 On the south side of Alma sits a beautiful facility which might be the perfect location to host your next event.  GCFFY's fairgrounds is the perfect location for a company retreat or picnic, a peaceful meeting, a family reunion or of course an animal event.  GCFFY has covered picnic areas; an all-weather, technology equipped conference room large barns and arenas.  Our online calendar has all of our events listed at www.gcffy.org found by clicking on Upcoming Events tab.  If you would like to see how GCFFY could serve your needs, contact Brian Gardner at the fair office at 989.875.5292 or bgardner@gcffy.org. 

Any 4-H club or FFA chapter who is looking for a meeting location or a place to hold your next club event is encouraged to consider the fairgrounds.  The cost for 4-H and FFA groups is often waived depending on the scope of the event and the amount of work it will take fair staff to clean-up after the event.  

Find us on Facebook

The Gratiot County Fair for Youth and the Gratiot County 4-H Programs both have active Facebook accounts.  These accounts are used to provide you with current information about their respective programs.  Everyone wants to be liked so please "like" them and make sure you are receiving current information.
If you have "liked" us on Facebook and we do not show up on your feed, go to our page and like a post or two or make a comment.  Active participation on a page will ensure you are receiving the information we are distributing.

The Gratiot County Fair for Youth's Facebook page is https://www.facebook.com/gcffy and the Gratiot County 4-H page is https://www.facebook.com/GratiotCounty4H.