Winter Storage Removal Information
Volunteers will be on hand to help you remove items stored at GCFFY from 9:00 a.m. to 12:00 p.m. on Saturday, April 12. If you are not able to make this removal time, the fair will park vehicles outside for self pick-up. Contact the fair office with any questions at bgardner@gcffy.org or (989) 875-5292.
GCFFY Requires Additional Ear Tag in Swine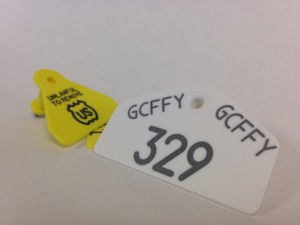 The Gratiot County Fair for Youth voted in their April 10 meeting to require exhibitors to have their market swine project animals tagged with a new state Swine Identification Tag along with their GCFFY ear tag.  The Michigan Department of Agriculture and Rural Development is requiring fairs to provide their exhibitors with official MDARD swine ear tags to all fair pigs.  The new tags are Allflex brand which is the same brand as GCFFY uses for their tags.  The tags will be provided to exhibitors at no additional charge and GCFFY has updated their market swine forms which are available to download at http://gcffy.org/fair_forms.html.  Swine exhibitors are highly encouraged to read the following Q&A document found by clicking here. For additional information contact Brian Gardner at bgardner@gcffy.org or (989) 875-5292.
Poultry Broiler Chicken and Duck Project
Fair exhibitors who are i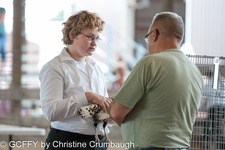 nterested in participating in the Market Chicken or Market Duck with "Project" birds must have their project birds ordered by Monday, May 12.  Those exhibitors who do not wish to enter the Poultry Project may purchase their birds through any source.  There is, however, a special award for exhibitors who use project birds and have the greatest rate of gain.  Exhibitors will only be able to sell one entry per market poultry class in Section A of the poultry section. Pricing on the birds is set on the number purchased but will NOT exceed $2.35 per chicken and $4.00 per duck.    Birds will tentatively arrive June 2 or 3 and you will be contacted and expected to pick them up at that time.  To sign up for project birds or for more information contact Clay Mills, Poultry Superintendent, at (989) 763-1973 or clmills@casair.net.   
GCFFY Changes How Still Exhibits are Displayed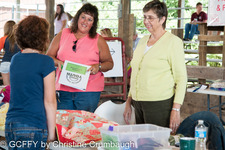 The Gratiot County Fair for Youth Board of Directors approved displaying still exhibits by project area instead of clubs at their last meeting.  The change was recommended by a committee of volunteers which included youth exhibitors, 4-H leaders and FFA advisors.  The committee presented the board with a plan.  Emily Maslovich, a youth fair exhibitor, stated the purpose of the change is "to achieve a uniform theme, while allowing exhibitors to arrange their exhibits in a format that displays the competition by project area."  Part of the committee's recommendation which was adopted was to have clubs set up project area displays with decorations provided by the Still Exhibit Committee around the 2014 theme "Reaching for the Stars".  In making the change, the board appointed Jennifer Courter as the head of the newly established Superintendent Committee. 

The change will only affect how projects are displayed.  Judging will be held in the Covered Arena as it has been in the last few years.  Current still exhibit project area superintendents will handle judging of the projects.  The new committee working with clubs will ensure projects are displayed according to areas.  After projects are judged, volunteers will be on hand in the exhibit barns to receive projects and set them up to be displayed.

The new GCFFY Still Exhibit Committee will be meeting at 6:30 p.m., Sunday, April 27 and is open to anyone interested in attending.  For more information about this change contact the fair office at 989-875-5292.
DTE Energy Pinewood Derby Comes to Fair
Gratiot County Fair for Youth has teamed up with Unique Motor Sports to set up a Pinewood Derby and Matchbox Race on Saturday, August 9.  The race will start at 12:00 p.m. under the fair's Pioneer Pavilion.  Entries will be open to three youth age groups and a "seasoned" age group.  Official rules are posted on line by clicking here.  The fair will be providing a kit building session at 10:00 a.m. on the morning of the race so there will be races for both prebuilt cars and cars built that morning.  Think you can master the forces of gravity and friction to get your car across the finish line first? Well, bring out some sand paper and paint, make your car and let's race!
Fair Schedule
The exhibitor schedule is mostly set for the 2014 Gratiot County Fair for Youth. The most current version of the fair schedule is posted online and available to download. Please note that these dates and times may change. Be sure to notice the version date on the top to make sure you have the most current version of the schedule. The official schedule will be printed in the 2014 fair book which will be printed in early May.
By-Laws Updated and New Board Elected at Annual Meeting
During the 2013 GCFFY Annual Meeting held in December the members approved the proposed changes to the organization's by-laws.  GCFFY's newly modified organizational bylaws are found by clicking here. 

Four board slots were filled for three year terms ending in 2016.  Slots were filled by Scott Acker, Becky Hirschman, Larry Richards and Martha Stellow.  Demi Long from Double C 4-H Club and St. Louis FFA was appointed as our fair's new Teen Representative.  Following the Annual Meeting, the fair's newly elected Board of Directors elected its officers for the coming year.  The officers are Becky Hirschman, President; Mark Story, Vice President; Argil Willman, Secretary; and Martha Stellow, Treasurer.

During the meeting President Becky Hirschman presented our annual highlights and statistics by powerpoint which are available by clicking here.
Fair Receives LED lights from Consumers Energy
Consumers Energy, through an incentive program to help them use less energy, provided over 100 energy efficient LED light bulbs to GCFFY.  These bulbs are to replace incandescent light bulbs which we will use throughout the fairgrounds to light our barns.   This is just another example of how our fair is becoming "greener".
Camping Update
Campers who camped with us in 2013 were offered their sites again for the 2014 fair.  The camping paperwork was due in our office last week.  If you missed that deadline, let Brian in the fair office know and get the form in by the first of February or you may lose your campsite.  If you or someone you know would like to camp with us, contact the fair office and have them added to the waiting list.  The list currently has 39 families on it.  The fair will work with campers who want to move first and then will start filling spots from the waiting list starting in February.  Typically one prime campsite is auctioned off at the GCFFY dinner dance.  Finally the board reinforced an existing campsite rule stating campers may not start setting up prior to Friday of fair.  This allows the fair time to do a final mowing and mark campsite boundries.  Why might the fair need an extra day?  The extra day provides a cushion in case of rain and volunteer schedules.  There will be no exceptions for any reason to this rule so please plan accordingly.
Market Livestock Changes
The Gratiot County Fair for Youth Board of Directors approved recommended changes from the fair's Large Livestock Committee at the December Board meeting.  The changes are listed below.
Large Livestock Skillathon Rules
Skillathon Classes in Beef, Feeder, Sheep and Swine will have the following rules:
Contestants will earn points in the following areas:
o   Showmanship
o   Written Quiz
o   Lab Practical
o   Livestock Judging Contest
o   Market Class
o   Record Books. 

The rules are as follows:
·     Open to all exhibitors
·     Contestants are encouraged to participate in all 6 events.  Final score will be based on the highest 5 scores.
·     Times for quiz and labs will be posted in the fair's exhibitor schedule
·     Prizes awarded for first and second place in each age group
·     Register on the Fair Entry Form


Skillathon added in Dairy
Starting in 2014, GCFFY will offer a skillathon class for Dairy exhibitors for two age groups.  More details will be forthcoming.


Changes in Entering Market Livestock:
Exhibitors registering market animals on the fair's pre-entry forms will need to declare a primary animal on their entry form.  This animal should only be listed as the primary animal on one registration form although it can be listed as a secondary animal on market registration forms for exhibitors in your immediate family.  Also new this year exhibitors will be limited to registering four total animals per species.
Cloverbud Schedule for Livestock Classes
Cloverbuds showing sheep and swine will show (showmanship only) prior to the beginning of the competitive showmanship classes for older exhibitors.  Beef & Feeder Cloverbud exhibitors will be combined and show immediately following the Beef Futurity class and prior to feeder showmanship.
Market Livestock Registration Deadlines
Market Beef – 4:00 p.m., Monday, February 3
Market Feeders – 4:00 p.m., Tuesday, April 15
Market Sheep, Swine & Goats – Thursday, May 15
All market animals must have a photo showing a GCFFY ear tag which are available at the fair office at $1.00 per tag.

Gratiot County Fair for Youth Expands Usage of Green Soy-Based Products
The 2013 fair was greener this year thanks to a grant Gratiot County Fair for Youth received from the Michigan Soybean Promotional Committee.  Because of grant funding the fair was able to purchase fair books and promotional brochures printed in renewable soy-based ink along with soy-based cleaning products, paints, sealers and fuels. 
"The fair had many large projects we wanted to accomplish and we were thrilled when we were able to utilize soy-based products to complete them," states GCFFY Board Secretary, Martha Stellow.  "Every year we paint a significant amount of our infrastructure, and use significant gallons of diesel and it is nice knowing our products were greener this year."
This is one part of the fair's initiative to be more environmentally friendly this year.  Earlier this year fair replaced seven high capacity outdoor lights to energy efficient LED lights.
GCFFY Memorial Scholarship Fund Tops $25,000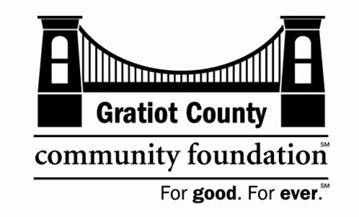 The Gratiot County Fair for Youth Memorial Scholarship Fund within the Gratiot County Community Foundation has reached $25,000.   This is an endowed scholarship fund which means only the earnings of the scholarship fund will be spent to fund the scholarship and the fund balance will be here for the coming year and the coming generations.  Last year the first scholarship was presented to Chelsea Nowlin in the amount of $500.  For more information including selection criteria and how to apply, click on http://www.gratiotfoundation.org/1/280/gratiot_county_fair_for_youth_memorial_scholarshi.asp.
Fair Requires Background Checks on Volunteers
Gratiot County Fair for Youth's Board of Directors adopted a policy to require criminal history background checks on fair board directors, superintendents, assistant superintendents and staff.  The Gratiot County 4-H Program has graciously offered to perform criminal background checks on behalf of the board.  Volunteers who are existing Gratiot County 4-H leaders will have met the requirements the fair's new requirements.  This is another example of GCFFY's commitment to provide a safe environment for its youth exhibitors.
2014 Fair Dates
The 2014 Gratiot County Fair for Youth will be Saturday, August 2 through Saturday, August 9, 2014.  Mark your calendars for what will be the best event of the year.
Fair Pictures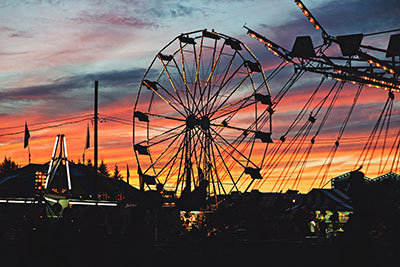 A special thank you goes out to Christine Crumbaugh for keeping our fair's Facebook up-to-date with her amazing photographs of the fair.  Because of Chris' efforts the fair received over 23,000 hits on its Facebook account over the week and gained many new "likes".  Chris has uploaded all of her pictures to her website, http://capturedbychristinecrumbaugh.com/gcffy, and is offering them as high quality digital downloads for $5.00 per image. She will donate all of her income back to the fair.  

Speaking of Facebook and thanks to Chris, the fair reached 23,500 viewers on its Facebook page,www.facebook.com/gcffy.  

If you have pictures of the fair you are willing to share, please send them to Brian at bgardner@gcffy.org. The fair uses these pictures in its publications and reports.  
Fair Sales Topple Last Year's Record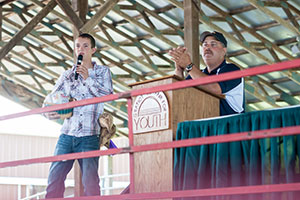 Thanks to a very generous Gratiot County community the combined sales for the livestock and still exhibit sales brought in $676,255.  This amount represents a new record shattering the record sale in 2012 by 20%.  For a detailed report of how the sales played out, click here.  Our 2013 buyers are listed at http://www.gcffy.org/buyers_2013.html.  A special thank you goes out to our volunteer auctioneers and ring men: Scott Acker, Mike Doty, Kevin Laethem, John McConnell, John Pavlik, Jr., Joe Sherwood, and Scott Sykora and announcer, (again and again) Burt Henry.  Thanks too for our sale clerks Amy Crumbaugh, Jerry May, Lori Mikek, Matt Newman, Michael Peterson, Erica Rayburn, Luke Rayburn, Becky Roslund, Dan Rossman, Jessica Stellow, Martha Stellow, and Raychelle Story for helping to keep the administrative side of the sale going.  Also thank you to all of the superintendents, fair board members, and volunteers who helped in so many ways from the set-up to clean-up and every place in the middle.  One thing is certain, this Gratiot County community supports the youth in our fair programs.
Fair Presents 458 Trophies and Special Awards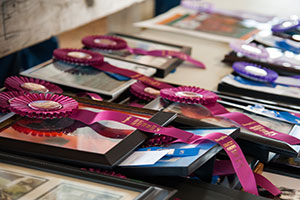 The Gratiot County Fair for Youth presented 458 trophies and special awards to the fair's youth exhibitors.  A first this year is that each of these trophies was sponsored by a very generous Gratiot County community.  A list of trophy winners is available at http://www.gcffy.org/parts/2013_trophy_recipients.pdf.  This year we presented trophies, plaques, halters with leads, backpacks, duffle bags, briefcases, tech coats, shirts and banners to recognize youth accomplishments at the fair.

Thank you to all of our fair's donors and sponsors who help us fund our trophies and ribbons.  If you are interested in learning how you can become a sponsor in 2014, contact Brian Gardner at the fair office at 989-875-5292.
Record Parking Helps Fair and Six Local Non-Profit Organizations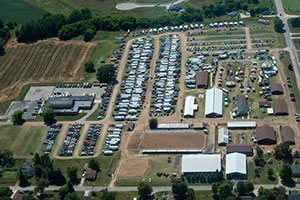 This year the fair generated over $18,000 in revenue from gate parking at the fair.  The fair splits this revenue with local non-profit organizations who volunteer to collect parking at the fair.  Each  will receive a share of the revenue which will return over $750 to each of the organizations.  This year, the parking was shared by:
Alma VFW Post 1454

Fulton Youth Wrestling

The Gratiot Hunger Network

Maple Valley Lions Club

St. Louis High School Spanish Club

United Way of Gratiot County
GCFFY Participates in Dream Big National Food Drive 
The International Association of Fairs and Exhibitions has a national initiative for member fairs to participate in food drives.  To meet this challenge, GCFFY worked with the Gratiot County Hunger Network which is a collaboration of all the local food pantries to determine the best way to work together to accomplish a common goal of providing food and resources for needy families.  This group clearly stated that the best resource they can have is money as it allows them the best flexibility to provide for their clients.  The fair offered this group a day of parking where the fair split the revenue received that day with the Hunger Network.  Their efforts generated $767.83 in revenue for local food pantries.  This has allowed us to report 7,678 pounds of food collected in the IAFE's Dream Big challenge.

For more information about the IAFE Dream Big campaign visit www.fairsandexpos.com.
Fair Presents its Annual Appreciation Awards
Each year, GCFFY presents an appreciation award to an individual and a business/organization who have provided outstanding service to the fair.  This year the individual award recipient is Bernie Siler.  Siler has been very active in supporting fair sales throughout the year and the exhibitors in the Breckenridge community.  Earning the business award in 2013 is Wendy's of Alma which is owned by Carol Freed, an alumnus of 4-H and the Gratiot County Fair for Youth.  Carol has given back in significant ways including donating to the fair's annual fundraising campaign, sponsoring the rodeo, providing refreshments at the sale and, as you all know, purchasing livestock and supporting all of the exhibitors.  Congratulations and thank you to both Bernie Siler and Wendy's of Alma!  We appreciate you!

For a list of all of our past fair Appreciation Award Recipients, click here.
From the Fair Office:
Dear Fair Family,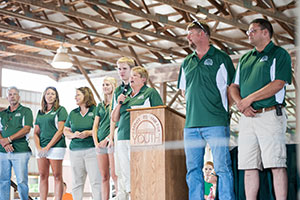 On behalf of the Gratiot County Fair for Youth, I want to extend my appreciation to the countless individuals who donated their time to help make our fair great.  Our fair's board of directors spends hours planning and preparing for the fair and then during fair are always the ones who are called when there is a broken toilet or burnt out light bulb.  Speaking of the fair's board, I would also like to thank the board's families for not only allowing time away from their loved ones in the name of the fair but for also taking time themselves to pitch in to make our fair better.  Each of our fair's superintendents spent a great deal of time getting ready for shows and getting to know the kids in their departments.  This year 4-H Clubs and FFA Chapters were asked to find time to serve in barn security and then at the River Rock Barn as volunteers and each person who helped is appreciated.  I want to thank our fair committees who helped with events like our opening ceremonies, exhibitor dance, parking and awards committee.  Thank you to our MSU Extension family for helping us in the office in countless ways, providing education for our volunteers and exhibitors, and running the always entertaining Ag Olympics.  And then there are those who chip in where they are needed during clean up days, throughout the fair week and throughout the year to make our fair special.

Because of the great people who volunteer their time and resources, I am convinced we have the best fair in the state.  It is an honor and a privilege to serve the people who make up the Gratiot County Fair for Youth.

Brian Gardner

Gratiot County Fair for Youth Campsite Procedures
This time of year, we want to remind all of our exhibitor families and future fair families about our fair campsite procedures.  Campers who camped during our last fair will be offered their sites first.  Letters will go out the end of November for these campers to pay for their sites and sign they understand and agree to our camping rules.  If campers want to move after everyone has responded, we do our best to accommodate requests.  The next step is to review our campsite waiting list.  Currently we have 26 families on this list.  The fair will contact families on this list in the order they were received until all of our empty sites have been filled.  To get on the waiting list or if you have any questions, contact the fair office at 989-875-5292 or bgardner@gcffy.org.  Please provide us your name, address, phone number (including cell phone) and email address.  Families will be added in the order they were received.
Find us on Facebook

The Gratiot County Fair for Youth and the Gratiot County 4-H Programs both have active Facebook accounts.  These accounts are used to provide you with current information about their respective programs.  Everyone wants to be liked so please "like" them and make sure you are receiving current information.
If you have "liked" us on Facebook and we do not show up on your feed, go to our page and like a post or two or make a comment.  Active participation on a page will ensure you are receiving the information we are distributing.

The Gratiot County Fair for Youth's Facebook page is https://www.facebook.com/gcffy and the Gratiot County 4-H page is https://www.facebook.com/GratiotCounty4H.