Cloverbuds Required to Fill Out Preregistration Forms to Show in Large Animals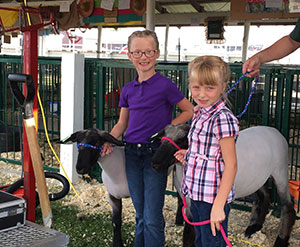 Cloverbud Exhibitors who want to exhibit in the goat, horse, sheep and swine project areas must complete a corresponding animal preregistration form by the May 15 deadline.  This will help superintendendents in these high demand/limited space project areas plan to ensure we have the proper space to house the the animal during the fair.  The fair will require all Cloverbud animals wear proper dentification tags as required by the Michigan Deparment of Agriculture and Rural Development and those numbers (if requried by that species) will be required on all paperwork.
Skills Tests/Lab Will Have Seperate Awards
The GCFFY Board of Directors approved adding an award for the Skills Test/Lab which historically has been one part of the skillathon competition.  These tests have always been a part of skillathon and their total points are totaled into the grand score which determines the skillathon champion. 

"We have found these tests have often created confusion from exhibitors and superintendents alike that these tests/labs were the skillathon and not one part of the skillathon," states Brian Gardner, GCFFY Fair Coordinator.  "We hope by recognizing these exhibitors who excel on their test/lab that people will better see the separation between these tests and the overall skillathon."  The skillathon is composed of many different species specific events.  In large animal market species for example the skillathon is composed of record book, skills test/lab, livestock judging contest, showmanship and market class.
New 4-H Curriculum for Hog & Beef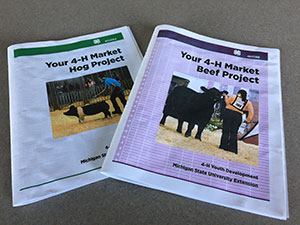 Michigan State University Extension has published two informational new 4-H handbooks for the beef (feeder) and swine project areas.  There is a wealth of great information which will answer questions and help exhibitor families learn more about their projects.  Looking for what size and age animal to purchase?  It is in there.  Want to know more about what to feed your animal? It is in there.  Curious about how to exhibit your market animal?  Look inside.  Stop by the MSU Extension Office at 219 N. State St. in Alma to pick up a copy and help make your 2018 fair your best one yet.
Fair Week Campsites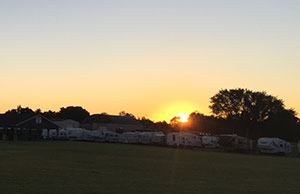 This past summer, GCFFY was able to expand our fairtime campground to 174 campsites.  Each site on the campground has water and electrical and every site was filled last year.  Every person on the fair's camping waiting list was called and offered a site but many passed as the turnaround was quick.  We still have a waiting list.  If you want to camp at the fair or check your status on this list, you are enouraged to email Brian Gardner at bgardner@gcffy.org.  If you are adding your name, please include your name, address, phone number (where you can be contacted on short notice), email address and the first year you would like to camp at the fair.

For campers who camped with us last fair (and did not receive a letter outlining rule violations) you will be mailed a campsite packet in the next couple weeks by the fair office to reserve your spot for the 2018 fair.  If you have moved, email Brian and let him know your new address.

Gratiot County Fair for Youth Recognized by 4-H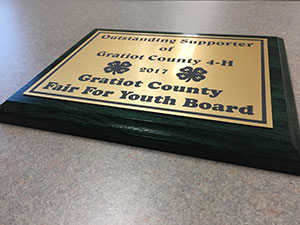 The Gratiot County 4-H Program held its annual awards recognition event in late October at the Hardwoods in Ithaca.  At the event several 4-H members, leaders and volunteers were recognized for their leadership and achievement in their project areas.  4-H surprised Gratiot County Fair for Youth's Board of Directors with a plaque recognizing the fair as their Outstanding Supporter of 4-H award for 2017.  During the recognition, Shelley Brittian, 4-H Leaders Council President stated the fair provides a venue at no cost to several 4-H events and meetings. 

"4-H is the leading partner of Gratiot County Fair for Youth," states Becky Hirschman, GCFFY's Board Secretary, who accepted the award on behalf of the fair.  "A strong 4-H program leads to a strong fair and most of us on the board are involved in both programs.  We value our outstanding relationship with 4-H." 

GCFFY congratulates all of the recipients of awards at the 4-H awards program.
Your Help is Needed to Build a Great Fair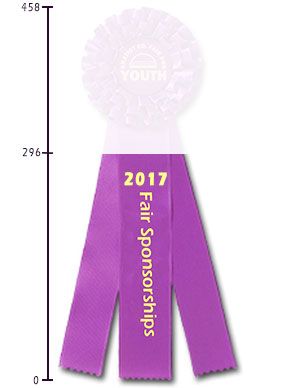 Thanks to the 104 donors to date, Gratiot County Fair for Youth is well on its way to meeting its goal of having all 458 trophies and awards it offers sponsored.  Currently the fair is about two-thirds of the way to its goal.  Reaching our goal of 100% trophy sponsorship not only provides well deserved recognition for our exhibitors but it helps the fair complete the funding equation necessary to run a successful fair program, maintain and improve our facilities, and provide an educational and memorable fair experience for our exhibitors and our community.

You can help.  You can support the fair through a gift to our annual fundraising campaign.  A class level donation starts at $50 and donors will be recognized with their name on a trophy and will receive a complimentary weekly parking pass.  Pledge forms and additional opportunities are outlined here.
GCFFY Extends Contract with Maple Leaf Amusements through 2021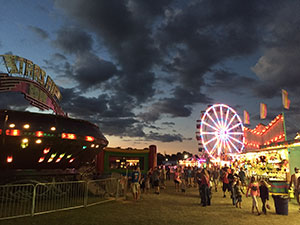 Gratiot County Fair for Youth and Maple Leaf Amusements signed a contract to extend Maple Leaf providing GCFFY's fair midway through the 2021 fair.  Maple Leaf began providing the midway during the 2015 fair and worked with GCFFY to create a great carnival atmosphere with exciting rides, fun games and amazing food like elephant ears, corn dogs, caramel corn and cotton candy.

With the new contract, GCFFY also locks in their upcoming fair dates.  The fair will remain the week that begins the last Saturday in July and end the first Saturday in August. 


July 27 – August 3, 2019
July 25 – August 1, 2020
July 31 – August 7, 2021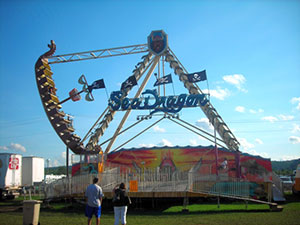 New this year at the midway will be the popular and thrilling ride the Sea Dragon.  This ride will swing riders in a large pirate style ship back and forth.  Maple Leaf has other rides they are working on switching into their midway as well so that their rides will continue to seem fresh and exciting.  Last year they added the incredible new gondola style Ferris Wheel which will again grace our midway in 2018.

GCFFY and Maple Leaf will again offer presale carnival tickets at $10 good for one person for unlimited rides for any day of their choice while the carnival is open from Monday, July 30 – Saturday, August 4.

Gratiot County Community Foundation GCFFY Memorial Scholarship
Scholarship money is available for fair exhibitors.  In 2012 a group of volunteers worked together and brainstormed how to provide scholarships to fair exhibitors while remembering someone who passed away.  An endowed memorial fund at the Gratiot County Community Foundation was created from that vision.  In 2017 GCCF will provide $600 scholarships to two fair exhibitors who meet the following criteria:


Must be a graduating high school senior accepted at a college, university or trade school OR a student currently in his or her first year at a college, university or trade school;
Must be a current Gratiot County Fair for Youth exhibitor who has participated for a minimum of five years with a preference to exhibitors who participate in multiple areas;
Displays a commitment to community service;
Demonstrates leadership skills;
Must not be a previous recipient of this scholarship;
Must submit an essay outlining the skills learned as a fair exhibitor and how those skills will serve you throughout your lifetime.  Be certain to address the aforementioned criteria.  Essays must be no longer than one typewritten page in an easy to read font. Also include at least one personal letter of reference. 

Applications and additional information about this and many other GCCF Scholarships can be found at http://www.gratiotfoundation.org/1/280/scholarships.asp.  If you are interested in helping this fund grow more than the $30,000 it currently has in its corpus, contact the Foundation.
Gratiot County Community Foundations Awards Two GCFFY Memorial Scholarship Recipients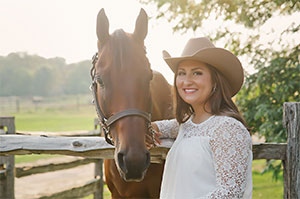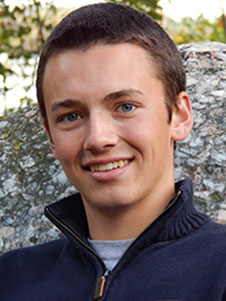 Austin Brittain from Breckenridge and Emily Maslovich from Alma were awarded the Gratiot County Fair for Youth Memorial Scholarship from the Gratiot County Community Foundation.  These scholarships will be paid from the community foundation's endowed GCFFY Memorial Scholarship Fund.  This fund is still growing and awards only the earnings from the fund's balance as scholarships. 

Austin Brittain recently completed his freshman year at Central Michigan University where he is studying Engineering.  Austin has been exceptionally active in the fair and is currently planning the third annual Science Fair to be held on Thursday during Kids' Day.  Brittain is an avid runner and was the winner of last year's Hoofing It for Ag 5K at the fair. 

Emily Maslovich graduated Salutatorian from Alma High School this past month.  Emily has grown up with the fair where she has participated in numerous different project areas.  Emily is finishing her second year as a teen representative on the Gratiot County Fair for Youth Board of Directors and is currently serving on the Gratiot County 4-H Leaders' Council.  For the past several years, Emily has volunteered to help the fair office organize ribbons and materials for GCFFY superintendents.
Fairgrounds Usage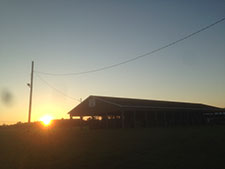 On the south side of Alma sits a beautiful facility which might be the perfect location to host your next event.  GCFFY's fairgrounds is the perfect location for a company retreat or picnic, a peaceful meeting, a family reunion or of course an animal event.  GCFFY has covered picnic areas; an all-weather, technology equipped conference room large barns and arenas.  Our online calendar has all of our events listed at www.gcffy.org found by clicking on Upcoming Events tab.  If you would like to see how GCFFY could serve your needs, contact Brian Gardner at the fair office at 989.466.5071 or bgardner@gcffy.org. 

Any 4-H club or FFA chapter who is looking for a meeting location or a place to hold your next club event is encouraged to consider the fairgrounds.  The cost for 4-H and FFA groups is often waived depending on the scope of the event and the amount of work it will take fair staff to clean-up after the event.  
Find us on Facebook

The Gratiot County Fair for Youth and the Gratiot County 4-H Programs both have active Facebook accounts.  These accounts are used to provide you with current information about their respective programs.  Everyone wants to be liked so please "like" them and make sure you are receiving current information.
If you have "liked" us on Facebook and we do not show up on your feed, go to our page and like a post or two or make a comment.  Active participation on a page will ensure you are receiving the information we are distributing.

The Gratiot County Fair for Youth's Facebook page is https://www.facebook.com/gcffy and the Gratiot County 4-H page is https://www.facebook.com/GratiotCounty4H.